Removing excess tissue from your upper eyelids can improve your vision and take years off your appearance
Before scheduling blepharoplasty, you will meet with Dr. Priti Patel, a board certified plastic surgeon who specializes in cosmetic and reconstructive surgery.
Blepharoplasty refers to eyelid surgery which is designed to remove the excess fat, along with skin and muscle, from the upper and lower eyelids. It happens to also be regarded as one of the most common cosmetic procedure performed each year. Due to the natural course of aging, our lids tend to get heavier over time and can lead to functional issues such as vision concerns but also cosmetic concerns for many.
How is eyelid surgery performed?
Your eyelid surgery will be performed in a hospital or outpatient surgery clinic. We generally make incisions on the upper eyelids or on the lower eyelids just below the lower eyelash line. Incisions made in the natural creases of your eyelids makes scarring less noticeable. In some cases we make an incision on the inside of the lower eyelid, called a transconjunctival incision.

Dr. Priti Patel will reposition or remove fat deposits, tighten muscles and tissues, and remove excess skin in the eyelids to give you a more awake and refreshed look. Small sutures are used to repair the incisions and the resulting scar is hardly noticeable.
Blepharoplasty may be an option if you have: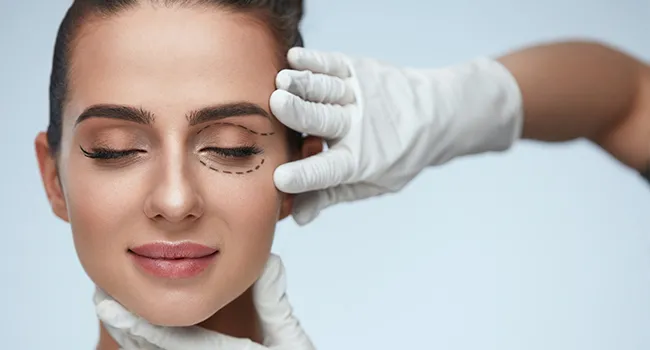 FREQUENTLY ASKED QUESTIONS
At Aesthetiq, its simply our pleasure to help patients uncover their true beauty. We encourage you to join our mailing list by signing up below. From scheduling to monthly events and promotions, you will be the first to know how we can assist in enhancing your appearance and embracing your self-esteem.